New Jersey (NJ) precast concrete barriers are an ideal choice when you need longitudinal median barriers to reroute traffic, protect pedestrians and workers during highway construction, and provide a buffer between opposing lanes of traffic on high-speed highways.
Get A Quote
Get a free jersey barrier quote today
New Jersey Barrier Design
Originally developed in the 1950s, the modular design of NJ barriers adds versatility for minimizing vehicle damage and preventing vehicle crossovers resulting in a likely head-on collision. Taller NJ barriers deliver the added advantage of blocking most oncoming headlights.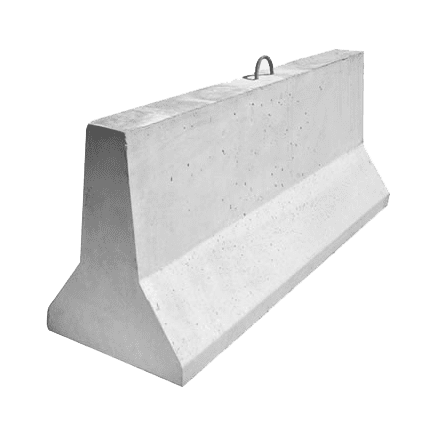 Our precast concrete barrier systems have many benefits over plastic barriers:
Stronger and heavier: reduce the risk of fatal and severe injury crashes
Reduced costs: substantial cost savings and less maintenance
Specifications: connect to F-style barriers and constant slope barriers
Versatility: available in several lengths and manufactured to specifications
Depending on the type of barrier that your project requires, the experienced team at Westcon Precast provides a range of models at differing dimensions to accommodate a wide range of projects. Look below for the engineering specifications and see if the New Jersey barrier is the right barrier choice you need to best suit your project.
Download Schematic as PDF (49kb)