Concrete Block Retaining Walls
Retaining walls are commonly used for landscaping designs that contain multi-tier gardens, on the side of mountain highways to create a flat surface for pavement, protection from flooding, and alongside bridges to protect against erosion.
Westcon & Redi-Rock Retaining Walls
Westcon Precast is Alberta's only licensed Redi-Rock manufacturer, with Westcon specializing in Redi-Rock concrete retaining walls. Redi-Rock is a concrete retaining wall manufacturer specializing in the design of gravity retaining walls that are designed to scale in weight and differ in look to be applicable for a variety of projects. Because Westcon is a licensed manufacturer of Redi-Rock, this allows us to gain access to a quick and easy purchase and installation of retaining walls in the Edmonton and Calgary area. We can also ship your retaining wall blocks anywhere in Alberta. Contact us today for a quote.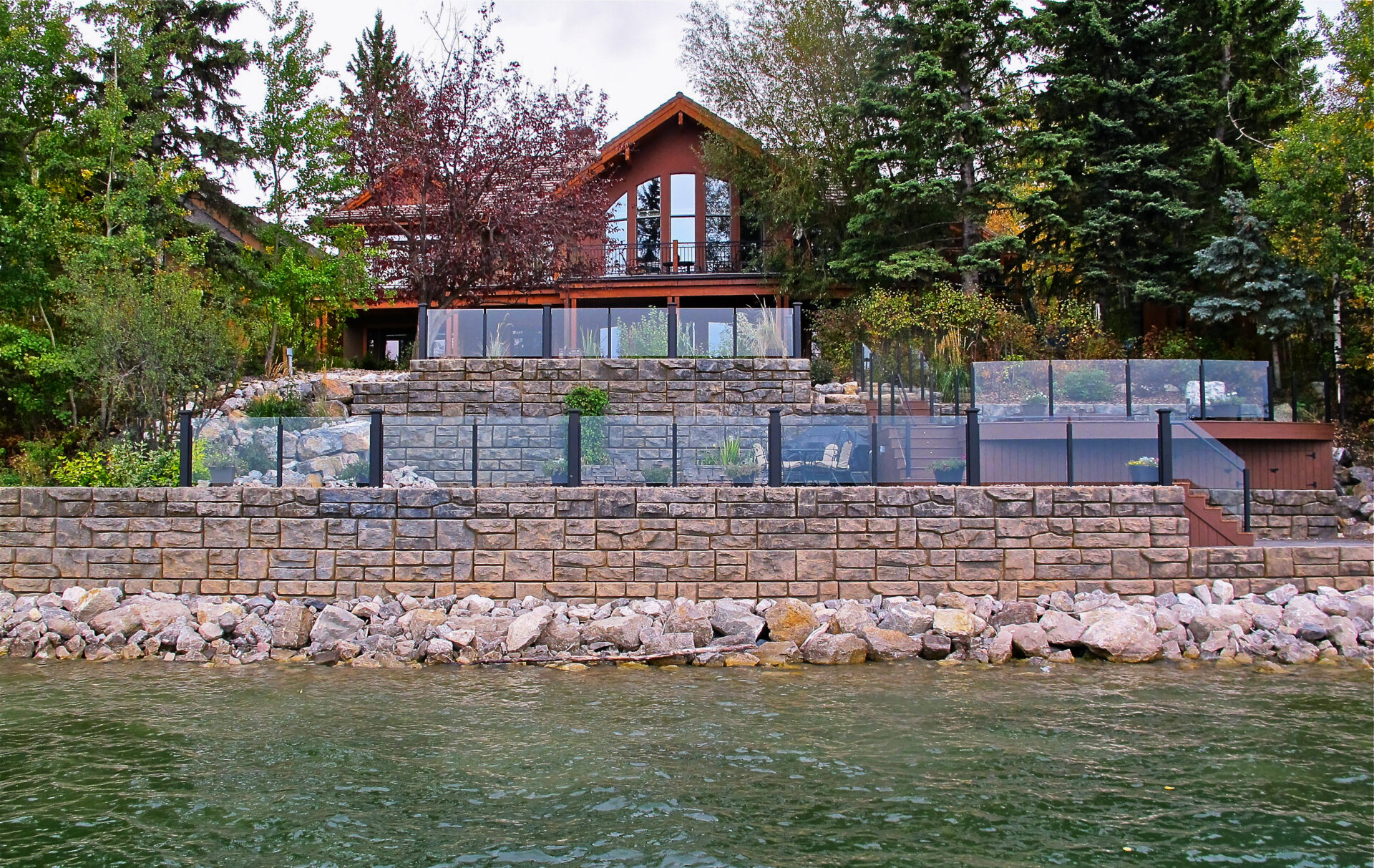 Different Structures for Different Walls
Gravity Wall
Gravity retaining walls are the most common type of wall. This structure heavily depends on the stone you are using and how heavy it is. A gravity model uses the mass of the stone retaining wall to resist pressure from the soil to ensure the soil stays in place. Simplicity is the core strength of a gravity wall, as it simply uses weight to leverage the soil.
Cantilever Retaining Wall
Cantilever walls are made out of concrete and constructed in an L shape. The concrete is made to go under the soil you are trying to hold, which is referred to as the "heel". The weight of the soil holds the concrete structure down, reinforcing its ability to hold the soil behind it. Other versions or variations of the cantilever are buttressed retaining walls and counterfort retaining walls, which include extra portions of concrete added to the bottom of the structure to provide heightened strength towards holding the soil.
Sheet Piling
Sheet piling is accomplished through a thin layer of material, whether that be a sheet of steel, vinyl, or wood, placed directly into the ground. This often requires the use of Anchored retaining walls. To ensure the proper amount of weight is holding the wall in place, the 'anchors', put deep into the ground, are injected with pressurized concrete to create a legitimate anchor for weight.
Understanding Your Project Scale
Whether it be for landscaping or a dugout trench for light rail tracks, concrete retaining walls are imperative to ensure the safety and utility of your project. Another key component is to understand the requirements and safety code behind what wall is chosen. Understanding the codes of where you're building locally is something to keep in mind too. The town of Cochrane published a retaining wall requirements checklist for reference, which can also serve as an example of what to look for when constructing a retaining wall.
Location and Contact
Westcon provides its Redi-Rock concrete retaining walls in the Edmonton and Calgary area, along with all the other models listed. You can contact us via the links below:
Retaining Wall Blocks Edmonton
If you need pricing for your next project, request a quote down below. Because every project is unique, this allows us to give you specific and accurate information.